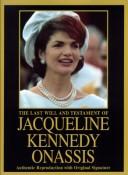 Sometimes you can find the oddest things in a library. This volume is exactly what it says it is: a copy of the last will and testament of Jacqueline Bouvier Kennedy Onassis. Along with the regular will information about trusts and tax laws, it lists her bequests to her friends and family following her death.
I have had a longstanding fascination with Jackie O (and the entire Kennedy family), so being able to read this legal document was sort of neat. I definitely felt like a voyeur, that I was peering into someone else's business, and about that I felt a bit of unease. That feeling wasn't helped by the fact that one of the sections deals with her personal papers, letters, and notes, which were left to her children, along with a plea for continued respect to her privacy. It made me wonder what she would think about this 'book.'
A 'cast of characters' at the front of the book helped explain who the people named in her will were in relation to her (although if you didn't know the who Caroline Kennedy and John Kennedy, Jr. were, I'd wonder why you were reading this text), and a timeline at the back of the book puts events like her birth, marriages, and time in the White House into a proper chronological context. It's marketed as being an historical document, and, given that Jackie was a former First Lady and I suppose that it is.
Frankly, it makes me wonder if there's a market for this type of glimpse into a celebrity's life, and if so, why don't we see more of this? Or is having documents put online at sites like TMZ and The Smoking Gun enough to take care of that wonder? In that way, this might be an historical document in more ways than one.
Read it with:
Jackie O: On the Couch by Alma H. Bond, PhD.
Jacqueline Kennedy: Historic Conversations on Life with John F. Kennedy by Caroline Kennedy
Jacqueline Kennedy: The White House Years - Selections from the John F. Kennedy Library
Dear Mrs. Kennedy by Jay Mulvaney and Paul De Angelis