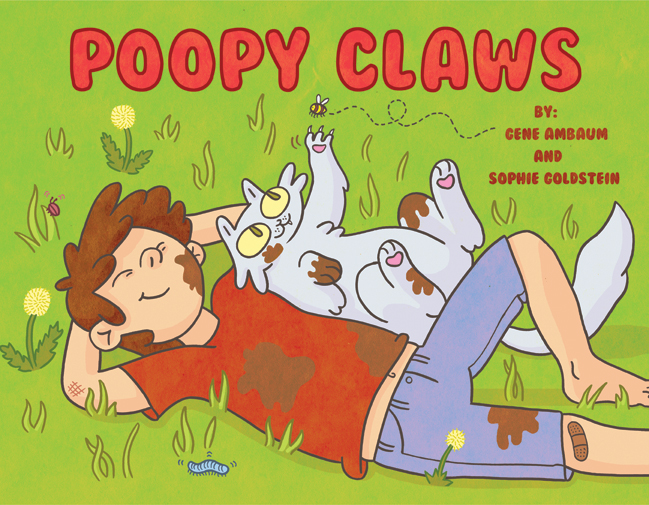 One little boy loves his cat; his cat loves poop. Well, it's not so much that Stinky loves poop, he just doesn't always poop in the best places...or clean off all the poop. The boy's mother (a bit of a neat freak) isn't happy about the whole cat/poop situation, but it gets even worse when her finicky Auntie comes for dinner... and Auntie is on her way! This dinner is on a course for disaster!
This book is disgusting, and I mean that as a compliment, because I think that that's one of the things that the author and illustrator were going for. I'm not at all the book's audience: I don't have a cat, I'm not really an animal person, and I don't overly like reading about poop. But I am a fan of Gene Ambaum (particularly his
Unshelved
comic) and while I don't know her work quite as well, I really, really like what I've seen of Sophie Goldstein's work. Those parts didn't disappoint at all. The story is sweet and funny and, well, disgusting; the art is colourful, energetic, detailed (I particularly lingered the montage of litter boxes) and, at times, disgusting. Seriously, I gagged while reading it. But I also think that in that perfect space where people who want to read about poop also want to read about a boy who loves his cat, this is just the book that they're looking for.
See more about the book
(including a hilarious picture of someone reading it).
Check out Sophie Goldstein's
other work
, her
Esty shop
, and the online comic
Darwin Carmichael is Going to Hell.
Find it at IndieBound.
Read it with:
Unshelved
by Bill Barnes and Gene Ambaum
Mother Ship Blues
by Sophie Goldstein
Everyone Poops
by Taro Gomi