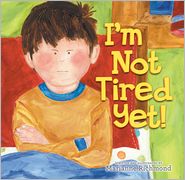 Ralphie Mix, age six, has a problem. It's bedtime, and he's not tired yet. How can he be tired when there's a bug running around his room? Or a monster in his closet? There's just so much going on! It's up to his mom to settle him down and get him ready for bed... but Ralphie has a few more tricks up his sleeve!
It was impossible to resist this book once I saw the cover. There was just something about that stubborn face that sold me on this story. I really liked the writing style: the way some lines rhymed, the repetition of certain phrases, the playful-yet-sometimes exasperated relationship that Ralphie and his mom had. The book has colourful illustrations that seem cozy and dreamlike at the same time. The prolonged bedtime routine will be familiar for many parents, and children will find lots of fun animal-esque ways of showing affection that they can build into their own bedtimes.
I received an advance review copy from
NetGalley
courtesy of
Sourcebooks Jabberwocky
.
Don't miss
Marianne Richmond's website.
Find it at IndieBound.
Read it with:
Dinosaur vs. Bedtime
by Bob Shea
The Night Night Book
by Marianne Richmond
If I Could Keep You Little
by Marianne Richmond