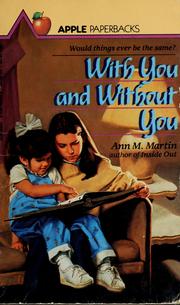 Liza O'Hara is really looking forward to Christmas. It's her family's favourite season and they all really get into the celebrations. Sure, she has terrible stage fright and she's just found out that she has to be in her class's production of A Christmas Carol, but there's probably a way around that. Then her father reveals some awful news: he's been diagnosed with a heart condition and he only has months to live. The idea of going on without him is heartbreaking, and Liza has no idea how the family is going to survive. But they still have one Christmas together to make a lifetime's worth of memories.
Ann M. Martin is probably best known as the creator of
The Baby-Sitters Club
, a series that has a place close to my heart. But she also has a number of stand-alone books, including
Bummer Summer, Missing Since Monday, Slam Book
, and
Ten Kids, No Pets
(and its sequel
Eleven Kids, One Summer
- so I guess it's not technical stand-alone, but it wasn't part of a larger series). One of my favourite of her non-BSC books has always been With You and Without You. It's a sad book (I can remember checking this out of my school library and crying during silent reading), but sad in that way that kids sometimes like; it's a satisfying sad because (spoiler alert) Liza eventually comes out on the other side of her grief. It's hard to think of children's books (this one is about the middle grade/young junior high level) that deal with the loss of a parent within the book - in many of them the parent has already died before the book begins. In the months following her father's death, Liza experiences sadness, grief, fear, anger, and guilt. How can she be happy while her father is no longer alive? Why don't her siblings feel the same way that she does? Is it okay to ever be happy again? Set around two Christmas - one with her father and one without her father - this is a touching story that really resonates with readers.
(Side note: it's hard to think that this book has been around for twenty-five years, and that the youngest child, Hope, would now be older than me. Time warp!)
Find it at Amazon.
Read it with:
On Christmas Eve
by Ann M. Martin
Missing Since Monday
by Ann M. Martin
Stage Fright
by Ann M. Martin