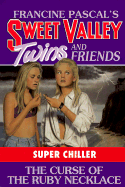 While looking for shells on the beach one day, Jessica Wakefield comes across a beautiful ruby necklace. She's immediately drawn to this beautiful object and even risks her life by diving into the ocean during a thunderstorm in order to retrieve it. Her twin sister Elizabeth can't understand Jessica's attachment to the necklace - it seems to have some mystical hold over her. Meanwhile, the twins also discover that a movie is being filmed at the old Keller mansion. This could be Jessica's big break! And Elizabeth is eager to get the scoop for the school newspaper. But before long the twins find themselves dealing with murderers, jewel thieves - and ghosts. Can they solve a decades-old murder...before it's too late?
At the end of
Fahrenheit 451
(spoiler alert), citizens of the new society begin by recounting the books that they can remember. If I was part of that society,
The Curse of the Ruby Necklace
would likely be my book. I purchased this book (or, rather, my mom bought it for me) when the above paperback edition was new in stores. It then took up residence at our cottage, and I read it at least once a summer until I went to grad school. When I went back to the cottage this summer, this was one of the first things that I looked for.
I never really got into Sweet Valley High. I spent a lot more time reading their younger counterpart, Sweet Valley Twins. In this series, Jessica and Elizabeth were 12 years old and in grade 6 (which always bothered me, because at my school 12 years old generally meant grade seven). Elizabeth was best friends with Amy Sutton and worked on the school newspaper, got good grades, and was the Gallant to Jessica's Goofus. Jess was best frenemies with Lila Fowler, belonged to an exclusive club called the Unicorns (who sat at a table they called the Unicorner and always wore at least one purple thing every day), dated Aaron Dallas, and didn't care much about grades.
Little of that, though, is relevant for
Curse of the Ruby Necklace.
Other characters make only brief occassional appearances (except for their cousin Robin, who joins them in solving a mystery). It's really more about Jessica, Elizabeth, and the magical necklace that connects them with Lillian Keller, the young girl who died decades ago and the subject of the new movie being made. Lillian's cousin was blamed for the 'accidental death,' but Lillian has returned (in spirit form) to right the wrongs of the past and to help bring the real killer to justice. The necklace acts as a conduit for the three girls to have access to Lillian; it makes them moody, possessive, and have terrible nightmares. (Sound familiar? When I first read/saw
Harry Potter and the Deathly Hallows
, it made me wonder if J.K. Rowling had read
The Curse of the Ruby Necklace
.) Aided by the movie's Penny Marshall-ish director, the twins are driven to find justice for Lillian.
Like many series paperbacks, this book really isn't meant to withstand the number of readings that I've given it. Sure, the entire premise, as a ghost story, is basically implausible, but there are more mundane things that stick out to me as being unrealistic. (For example, a big deal is made of the fact that the girls are twins, and they're hired because of how valuable twins are for movie-makers dealing with restrictions on child labour. But Jessica and Elizabeth are the only twins on set, and they're only ever in scenes with other tweens...so how will having an extra "Luella" character ever make a difference?) It's best not to dwell on that, though, and instead just settle in and enjoy the complete ridiculousness that is
The Curse of the Ruby Necklace.
See how it fits into the
Sweet Valley Twins universe at wikipedia.
For a more in depth review of the book, I highly recommend
1bruce1's recap.
Find it at Amazon (used).
Read it with:
The Unicorns Go Hawaiian
by Francine Pascal
Baby-Sitters' Christmas Chiller
by Ann M. Martin
Closed for the Season
by Mary Downing Hahn
Harry Potter and the Deathly Hallows
by J.K. Rowling