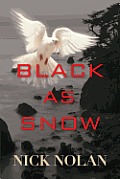 Everyone knows Sebastian Black. If he's not on TV talking about his Evo-Love religion, his good looks are being featured in magazines or blogs are talking about his latest romantic conquest. His mother is thrilled at the attention - and the money that it makes. It's a great life for Sebastian, but when something tragic happens he starts to wonder what his life is all about. He retreats from the public eye - and his mother - in an attempt to find answers about his life. Sebastian is alone and and at his most vulnerable. But his timing couldn't be worse, because a group of people who oppose his religion and his teachings are getting close to finding him...and they'll stop at nothing to get their message across.
I feel like before talking about the book, I should talk about how I got the book. I was approached (by email) by someone from
Little Bird Publicity
to see if I would be interested in receiving a review copy for a book that was published by
AmazonEncore
. I'd heard about AmazonEncore but wasn't quite sure what kinds of books they'd be publishing, so I jumped at the chance to read one of the titles, and before long a copy arrived in the mail.
But, back to the novel. When I first started, it took me a little while to get into the book. There were a number of characters and plots presented in the first chapters, and I had a hard time keeping them all straight. As the story picked up steam, though, I found myself much more able to keep up and could let myself get lost in the story. Sebastian is an engaging main character, and there's lots to be explored with a young, beautiful, Christ-like figure. The two biggest strengths of this book were Nick Nolan's deeply crafted supporting characters (particulary Tess and Libby) and his talent for writing dialogue. I loved the scenes where the characters would debate and challenge each other, or even just share information. I can't say that I picked up on all of the Snow White details (helpfully explained in an Author's Note at the end of the book), but I don't think you need to to enjoy the story. The religious-based plots and two intense, graphic sex scenes (one an act of violence, one an expression of love) mean this book won't be for everyone, but what book is? I doubt that I would have known about this book had it hadn't come across my inbox, so I'm thankful to have had the chance to learn more about author Nick Nolan's work.
I received a review copy of this book. Check out more information about
Amazon Encore.
Look for more information on
Nick Nolan's previous books.
Find it at Amazon.
Read it with:
Double Bound
by Nick Nolan
Strings Attached
by Nick Nolan
Sleeping Angel
by Greg Herren